Last week, my wife and I welcomed our first baby girl into this world and we could not be more thrilled.
We purchased our first home last year – and with a new addition to our growing family – it turns out we were just in time.
For us, buying a home has always been an important milestone. It meant a roof over our heads, a place to start a family, and a way to build wealth.
But, one thing is for certain — it wasn't all easy.
Is the American Dream fading?
A few weeks ago, I was telling a friend about moving into our new house and he emphatically responded, "the American dream!" That struck a chord with me. I hear a lot of chatter about younger generations that never want to own a house and declining homeownership rates.
For me, that couldn't be further from the truth — but I was curious to know if this "American dream" was fading for the masses.
Enter a new generation of homeowners
Chris Ling from NerdWallet has said, "There's a strong indication that millennials do want to become homeowners, which is quite different from what we've heard."
The data suggest that the American dream of homeownership is alive and well. When looking at the next generation, it's clear that there's a strong desire to become homeowners.
In 1988, the New York Times wrote a piece on this exact topic, but warned of declining homeownership rates and the changing needs of Americans.
"The national home-ownership rate has been dropping since 1980 and millions have been squeezed out of the housing market. There also have been societal changes as well to affect how Americans feel about owning a house. In an increasingly mobile society, homeownership no longer anchors people to the land as it once did." – New York Times (1988)
Fast-forward three decades later and despite some ups and downs, the national homeownership rate has held steady. In fact, homeownership rates are actually higher today at 65 percent, compared to 63 percent in 1988.
As much as we like to predict things change, oftentimes they stay the same. Here are a few recent stats from NerdWallet that give me confidence in the strength of homeownership:
88 percent of Millennials and Gen Zers feel confident about becoming a homeowner one day
82 percent of Millennials say owning a home is their top priority, which is notably higher than previous generations
After reaching an all-time high of 69 percent in 2006, homeownership rates dropped steadily for nearly a decade until rebounding in 2015. Most of us also remember 2008 when there was a housing crisis followed by a major recession. Now that we've rebounded, there is a huge wave of Millennials entering the buying market.
According to data from NerdWallet, Millennials total 66 million individuals and 24 million independent households
The median age for first-time homebuyers has remained virtually unchanged for the last 40 years
Two-thirds of millennials have not yet reached the homebuying age of 31
There are obvious macroeconomic factors, which are out of our control and cyclical. However, if there's one thing that has stayed true, it is the strong motivation to own a home.
The home as an investment
The persistently pessimistic view about the future of homeownership needs to change. There's a lot of pressure put hear a lot about the importance of investing in the markets early, but homeownership is one of the most important ways for consumers to build wealth and financial stability.
According to First American Data, one of the country's largest property data providers, the net worth of homeowners is 40 times higher than that of renters.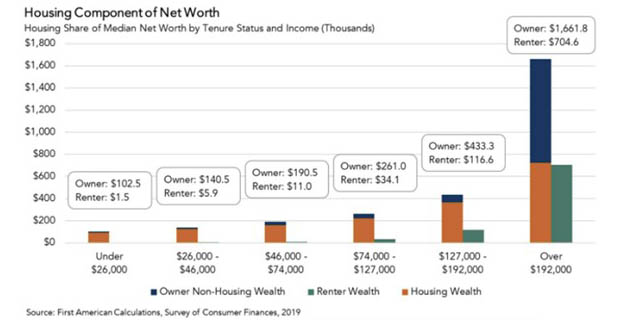 These numbers also hold true across income levels, indicating that the home is the major factor in driving wealth creation.
The Evolving Role of the Home
Based on the data, homeownership is still a key part of the American dream, but that dream looks a bit different today than it did several decades ago.
The modern homeowners are digital natives, often a WFH-er, DIY-er & Airbnb-er.
Therefore, the next generation of homeowners will require next-generation solutions to fit their needs as homeowners.
Greater financial flexibility
According to Bankrate, 14 percent of Millennial homeowners said they would tap their home equity for a vacation. While this goes against typical financial advice, the counterpoint is viewing this behavior shift as an opportunity. Younger generations want faster and easier access to their money so they can do whatever it is they want to do. In fact, Gen X and Baby Boomers have more consumer debt than Millennials, which indicates this isn't about aversion to debt or financial habits – it's simply a behavior shift.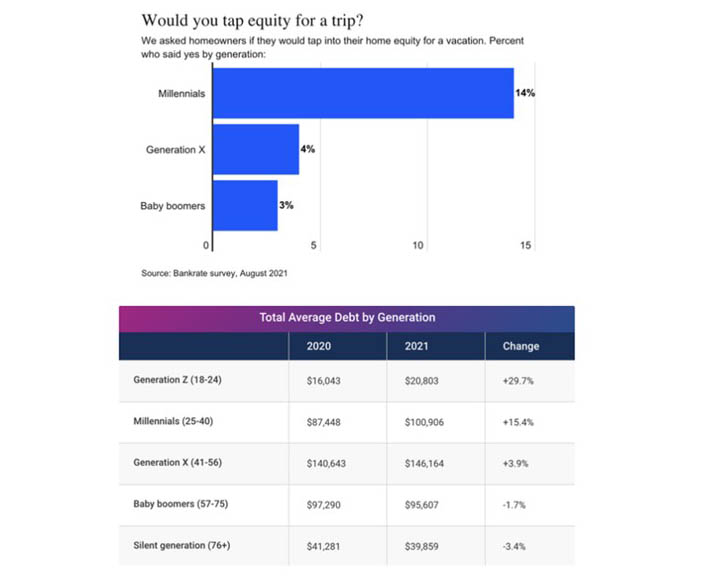 Spending more time at home
In addition, the COVID-19 pandemic accelerated our shift to working from home and consumers are spending more time at home than ever. Meanwhile, innovations like Airbnb support the ability to generate income from any location, giving consumers more mobility when it comes to work.
To accommodate growing families, remote work, and even houseplant obsessions, Millennials are more interested in remodeling and DIY renovations — they've even been coined the "renovation generation." Compared to both older and younger groups, Millennials are 3 times more likely to take on home office projects and additions, according to a report from HomeAdvisor. And despite the economic impact of the pandemic, the home remodeling market continued to expand in 2020, marking the tenth consecutive year of growth for the home improvement industry, according to Harvard's 2021 Improving America's Housing Report.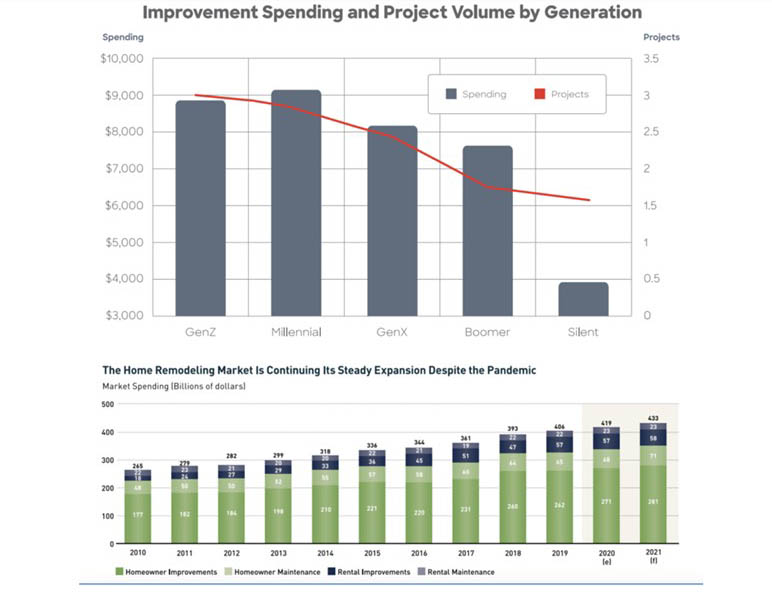 Source: Harvard Improving America's Housing Study 2021.
More solutions to make homeownership easier
For most Americans, their home is their biggest financial asset and there are few tools that can help homeowners maximize their investment.
According to research from Aite, 70 percent of homeowners are interested in a service that gives them advice about when to refinance and what remodeling investments will boost a home's value. Additionally, 60 percent are interested in getting advice about when and how to use the equity in their home for major purchases, remodeling, debt consolidation, and more.
Since the pandemic accelerated a massive work-from-home trend, the $450 billion annual home renovation market has surged as families look to maximize their space.
At the same time, companies like Airbnb now offer more flexibility in homeownership, which I alluded to earlier. For younger generations, Airbnb gives homeowners the ability to travel, as well as an easy way to monetize their homes and offset costs. For example, Airbnb hosts with just one listing earned more than $1.2 billion in total through the platform from March 2020 to March 2021.
What needs to change?
I won't spend much time on the macroeconomic environment because it's largely unpredictable and out of our control. However, it is clear that many younger Americans want to become homeowners and owning a home is one of the most effective ways to build wealth.
Given homeownership's importance in wealth creation, we must make homeownership more accessible to all Americans and this requires industry-wide changes.
1. More Education
First and foremost, education should be a key focus. Many potential homebuyers are unaware of the options that exist to make homeownership more accessible and given the role homeownership plays in wealth creation, we must focus on educating and enabling the next generation.
For instance, 73 percent of Millennials and Gen Zers are unaware of lower down-payment mortgage options, according to research from Fannie Mae.
NerdWallet's Chris Ling explains how this lack of awareness becomes a barrier for would-be homeowners. He has said, "Many Millennials believe they are unable to afford homes when really many of them are unaware of the different financing options that exist."
2. More Innovation
New innovations are making the path to homeownership easier. Home equity investments, home-buying assistance programs and solutions like the ones outlined below, make it possible for more consumers to take part in the American dream – no matter what their dream home may look like.
For instance Point, Hometap and Divvy are all examples of innovative solutions that make the path to homeownership easier.
3. More flexibility in owning
Owning a home comes with a lot of challenges – both financial and emotional. One of the easiest ways to encourage more people to buy homes is to make owning one easier. Airbnb has had a massive impact on how people perceive homeownership – giving owners more freedom, financial security and flexibility.
Beyond making it easier to own a home, it's also important that homeowners understand how to maximize their investment and get the most value out of their home. For example, if a prospective homebuyer has elderly parents and wants to care for them, it's helpful for the homebuyer to recognize ways their home can support their changing family dynamics – whether it means adding on to the home or converting space into new living quarters. Similarly, if a homeowner wants to benefit from added financial security – could they rent out a portion of their existing space or does it make sense to add on to the property?
Empower the Next Generation's American Dream
Ultimately, there's no better time than now to help homeowners get more out of their biggest financial investment. The current mortgage system leaves many homeowners without support after their loan closes. With the right financial tools, guidance, and products, our industry will empower the next generation to pursue the American dream and become confident, happy homeowners.